Literally the Best Web Design Agency Toledo Has!
A Web Design Agency that is truly local!
We live here, we shop here, we love Toledo's Businesses and help them grow!
Is your business searching for Top-Rated website design and development services? Grow With Meerkat has the experience, highly rated reviews and awards to prove that we are up for the job! Just ask Toledo City Paper – We have been voted Best Toledo Web Design Agency for 3 years in a row!
The Best Web Designers In Toledo For Your Business!
As they say, "time waits for no man" – especially when it comes to technology. With the ever-changing landscape of website development, keeping up with trends can be overwhelming and costly.
Fortunately, there are still many options available for those who want to create or update a professional website without having to break the bank. This is where Grow With Meerkat – Web Design Toledo,  steps in. Through its innovative approach towards web design services, companies have access to user-friendly designs at prices that won't leave them feeling shortchanged.
From start-ups looking for an efficient way to launch their business online to established corporations seeking more sophisticated solutions – Our Web Design Toledo Services ensures everyone finds something suitable within their budget range. So whether you're building your first website or revamping your current one – prepare yourself as we dive into what makes this Midwestern hub so attractive to tech enthusiasts everywhere!
Ready to work with Grow With Meerkat?
Get a Website Built and Hosted With The Best Technologies Around:
Another important aspect of our work is providing clients with highly responsive, mobile-friendly websites. Grow with Meerkat stays ahead of the game by using the latest technology in web design in Toledo.
One of the key tools we use is the Divi pagebuilder, a powerful and user-friendly page builder that allows us to create custom and visually stunning websites with ease. With the Divi pagebuilder, we can create a website that not only looks great but also functions flawlessly, delivering an exceptional user experience to our clients' customers.
In addition to the Divi pagebuilder, we also utilize the power of WordPress as our content management system. WordPress is a versatile and user-friendly platform that allows us to create and manage websites with ease. Our team of experts is well-versed in WordPress, ensuring that our clients receive a website that is not only beautiful but also functional and easy to manage. We also use Adobe Photoshop and Illustrator to create custom graphics, logos, and images that bring our clients' vision to life. These tools give us the ability to bring even the most complex designs to life and ensure that our clients receive a website that truly represents their brand.
Grow With Meerkat provides comprehensive web design services from start to finish
Grow With Meerkat is here to help with all your website needs! We can give your old, boring website a fresh look, or build you a brand new one from scratch. Our goal is to make your website the best it can be, so it can help your business shine.
"Design is not just what it looks like and feels like. Design is how it works." – Steve Jobs
This quote by Steve Jobs highlights the importance of both form and function in website design. A website should not only look good and be aesthetically pleasing, but it should also be easy to use and navigate, providing a positive user experience.
We add the bells and whistles to make your website pop and draw in more visitors. Our team works with you to make sure your website looks and feels like you. This way, your website can show off what your business is all about in the best light possible.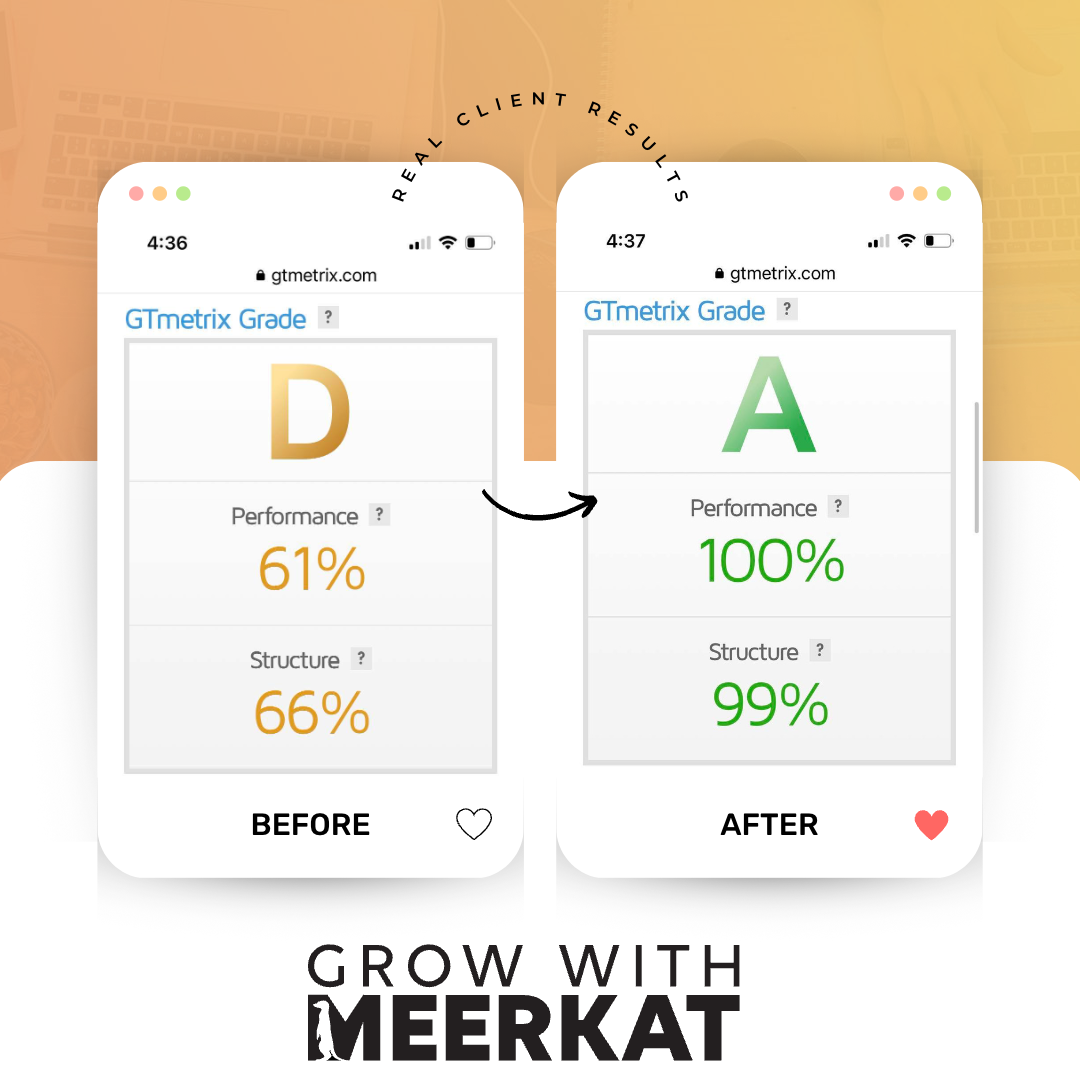 Mobile-Friendly Web Design
At Grow With Meerkat, we understand the importance of having a mobile-friendly website in today's digital world. As a leading web design agency in Toledo, Ohio, we specialize in creating responsive and user-friendly websites that not only look great, but work seamlessly on all devices.
Our team of expert designers and developers understand the latest web design practices and are dedicated to delivering high-quality, mobile-friendly designs that will take your brand to the next level. With a focus on user experience, we'll help you communicate with your audience and convert visitors into customers.
Whether you're a startup or a large enterprise, our personalized web design services will help you stay ahead of the competition and leave a strong digital footprint. We believe that design is not just about how a website looks, but how it works, which is why we follow the latest industry standards to create websites that are both visually appealing and functional.
Elevating your search engine ranking
Lowering maintenance expenses for your website
Driving more traffic and leads
Widening the scope of your marketing efforts
Enhancing conversion rates
Streamlining the user experience on your pages
Strengthening your brand image.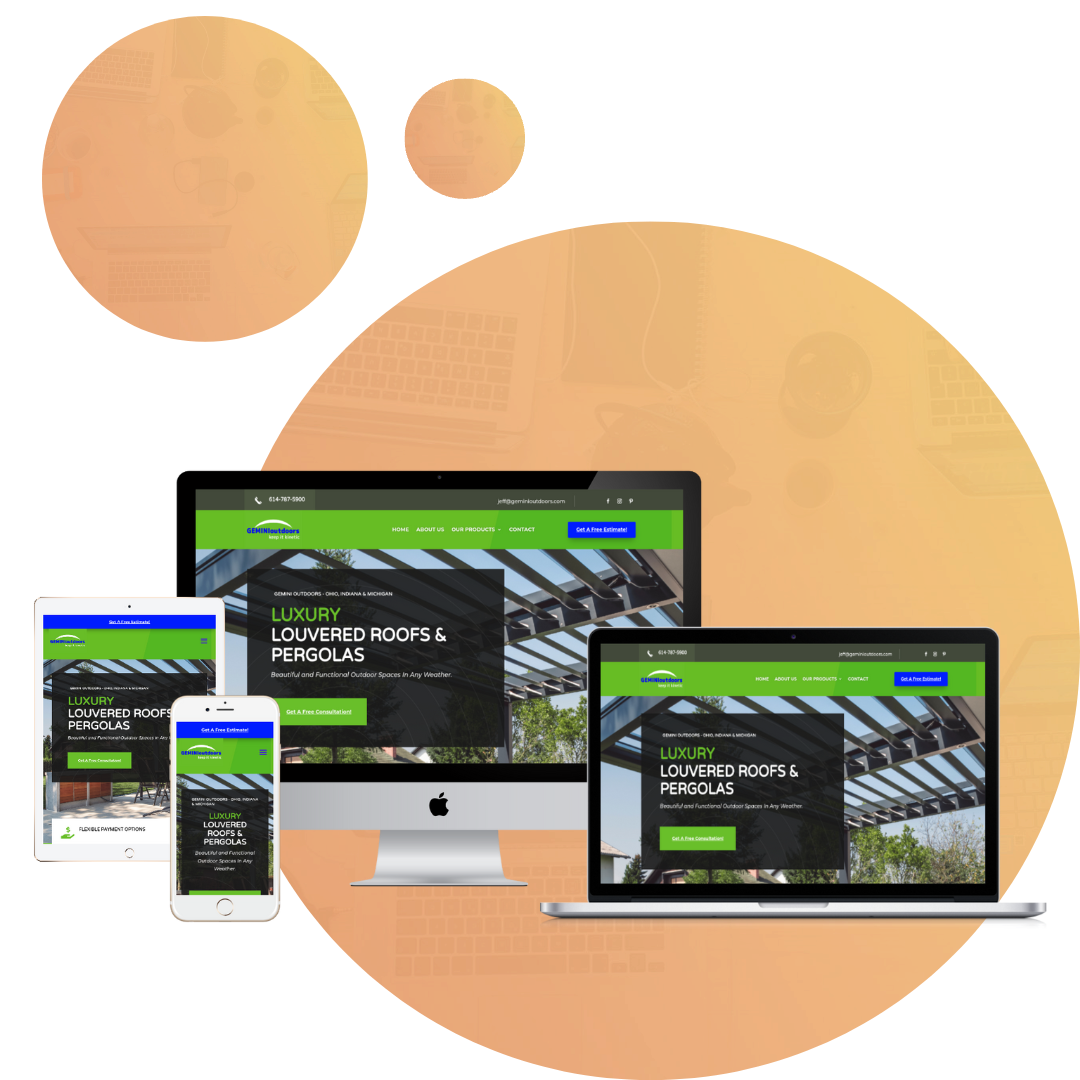 Custom Web Design Solutions
We believe that Custom web design  is the way to go if you want full control over your website's look and functionality. No more settling for generic templates – let us create a one-of-a-kind website that truly represents your brand.
Our team takes the time to understand your business and your target audience, so we can develop a web design that is tailored just for you and always on-brand. We don't use any pre-made templates or graphics – everything is custom made to fit your unique needs.
With our custom web design solutions, you'll be able to establish your industry authority, protect your brand image, and provide a personalized customer experience. We use data-driven strategies to identify your unique selling points and improve your website's scalability, all while reducing costs and increasing your long-term return on investment. Make your website work harder for you with Grow With Meerkat.
In today's digital landscape, having an engaging and effective website is crucial for the success of any business. That's where Grow With Meerkat comes in – as the leading WordPress web design agency, we offer businesses an easy and flexible platform to build a website that truly represents their brand. With WordPress being one of the most popular and widely used content management systems (CMS), our team leverages its user-friendly interface and customizable features to create a professional and impactful online presence for our clients.
The Advantages of WordPress for Web Design
One of the key advantages of using WordPress for web design is its open-source nature. This means that it is freely available for anyone to use and modify, making it an attractive option for businesses with limited budgets. Additionally, WordPress has a large community of developers and users, which means that there is a vast array of plugins and themes available to enhance the functionality and appearance of a website.
Another advantage of WordPress is its ease of use. The platform's intuitive interface makes it easy for businesses to create and manage their own website, without the need for extensive technical knowledge or the use of a web developer. This not only saves time and money, but also gives businesses complete control over their online presence.
The Importance of Customization in WordPress Web Design
While the ease of use of WordPress makes it an attractive option for businesses, it is also important to consider customization. A website that is unique and tailored to a business' specific needs and branding can have a significant impact on the success of an online presence. Customization can be achieved through the use of custom themes, plugins, and widgets, allowing businesses to create a website that truly represents their brand and provides a seamless user experience.
In addition to customization, it is also important to consider the mobile responsiveness of a website. With the increasing use of smartphones and tablets to access the internet, it is essential that a website is optimized for mobile devices. WordPress offers a range of mobile responsive themes, ensuring that a website will look great and function effectively on any device.
The Benefits of Working with a Professional WordPress Web Design Agency
While it is possible for businesses to create their own website using WordPress, working with a professional web design agency can bring numerous benefits. A professional agency will have extensive knowledge and experience in web design, and will be able to create a website that is not only visually appealing, but also optimized for search engines. This can help a website rank higher in search engine results, increasing its visibility and reach.
A professional web design agency will also be able to offer a range of additional services, such as website maintenance and security, ensuring that a website is always up-to-date and secure. This can save businesses time and money, allowing them to focus on their core business activities, while still having a professional and effective online presence.
whether you need unique shipping and payment methods or interactive features that allow your customers to check different product colors or sizes at 360°- we can integrate them with your website design. And a clean code our seasoned web developers write will ensure that the amazing site speed remains even after you decide to expand your business.
People love exploring websites that look beautiful and unique. Our design development is focused on satisfying both you and your potential customers. We can help you get a website that will represent your products in the best possible light.
we will integrate a content management system (CMS) that best suits your everyday needs. It will be easy for you to add new products, change descriptions and images on existing ones, optimize your pages for SEO ranking, and much more.
around 60% of customers claim that being able to shop on mobile devices is very important to them. A responsive design is an integral part of our web design agency formula, and it will make your website adjust to look amazing on any screen size. Everyone will be able to order your products any time at any place.
leaving personal information online is never pleasant until you are confident that the website is 99.9% secure. We will implement SSL certification and ensure that your customers' data is protected by building a website design that complies with PCI DSS (Payment Card Information Data Security Standards).
enhanced user experience and beautiful clean design will increase conversion rates and return on investment for you. Professional agency websites are much more profitable than templated ones because every element on them is created and tested with your ideal customer in mind.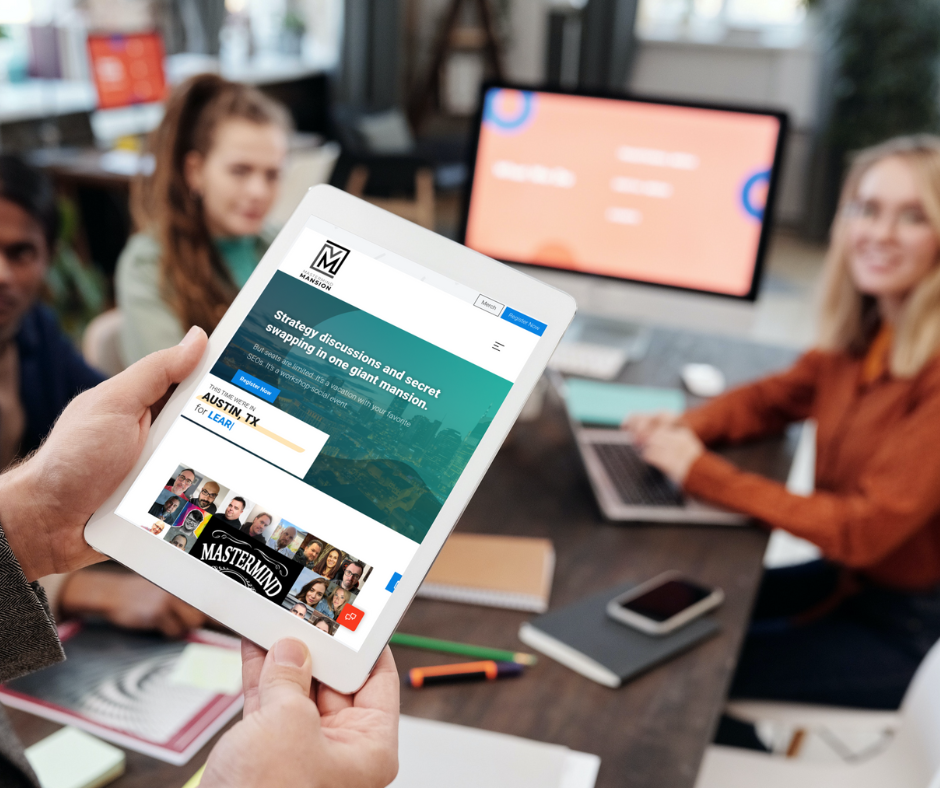 If you're running a website for your business, "Grow With Meerkat", it's important to make sure it's doing its job well. Here are some things to keep an eye on:
Traffic: This is how many people are visiting your website. If you notice fewer people coming to your site or if they're spending less time there, it might be time for a new design.
Conversion rate: This is how many people are doing what you want them to do on your website, like making a purchase. If not many people are doing this, there might be something wrong with your website and a new design could help.
User experience: How easy is it for people to use your website? If it's hard to navigate or if it looks outdated, it might be time for a redesign.
Is your website not working as hard for you as it should?
To find out if your website needs a makeover, you can look at your website's analytics, compare it to previous years, and gather feedback from your customers. You can also make sure your website is up-to-date with the latest technology and design trends. Working with a Toledo Web Design Agency can help you make an informed decision about your website.
Your website is not mobile-friendly – mobile traffic is rising, and if your website does not look and function well on smartphones and tablets, it is definitely a time for a redesign. Otherwise, you will keep losing potential customers.
Change in branding – your website should support your brand identity system. You must adjust your website accordingly if you have changed any branding elements, and avoid creating confusion among your client base.
It is hard to manage your content – this is usually an alert sign that something is wrong with your backend. A careful redesign will make your everyday work much more manageable. Our web design company understands the importance of an easy-to-use content management system, so we ensure our clients are provided with one.
Slow website speed – if it takes more than 4 seconds for your web pages to load, around 75% of users will leave before they even have a chance to explore your content. Professionals from web design agencies know how to speed up your website by inspecting your code and removing unnecessary elements.
Bad SEO performance – if you have trouble ranking on the first page of Google for unique keywords (your brand name, for example), even after investing a lot of time and effort, it might be best to consult with one of the web designers firms. SEO experts from our web design company will gladly analyze your situation and find the best solution for you.
Is it the right time to
redesign your website?
"Have no fear of perfection—youll never reach it." (Salvador Dali)
Did you know that the average website lifespan is around two years and seven months? Things are changing quickly in the web design industry, and in the blink of an eye – your website might start to feel old.
Redesigning a website is one of the most important steps you can take to improve the online presence of your business and establish a brand identity system for years ahead. Our deep understanding of emerging web design trends can help you get back on track and get a redesigned website that provides a unique user experience your customers will truly enjoy.
However, as your website undergoes many changes during this process, it is only natural to fear losing SEO after redesign. That is why you should not hire just any web agencies to do it before ensuring that they have SEO experts on their team. Our team consists of experts with different skill sets who work together closely and pay attention to every detail to make the process as smooth as possible. If done correctly, redesigning your website will actually improve its performance in search engines and help you get ahead of the competition in Google rankings. And a true pleasure that would arise from the improved user experience will help you expand the loyal customer base.
What divides us pales in comparison to what unites us. (Edward Kennedy)
Around 26% of American adult citizens live with some form of disability. That is approximately every fourth adult citizen! Exploring the Internet would have been much harder for people with disabilities if it was not for ADA compliance regulations that require you to make your website accessible to everyone.
Our websites are specifically built to cater to the needs of individuals with various disabilities or impairments. Our team of web designers will provide a proper contrast ratio and consistent navigation along with descriptive labels and errors in the form fields. We also provide keyword navigation for users with limited mobility. That will help you get a better SEO ranking and avoid court costs. But first and foremost, our web design company pays a lot of attention to crafting ADA standards accessible design because we believe that disabled people deserve a great user experience on your website.
Read more about our commitment to WordPress ADA Compliance
Enhanced User Experience & Digital Marketing Performance
Enhanced User Experience & Digital Marketing Performance
More than 5 billion people use the Internet daily – isn't it an excellent opportunity for you to spread brand awareness and connect with customers all over the world? Gone are days when only big companies could advertise globally. Whether running a small business or a large corporation, a strong presence on the Internet is a must if you want to succeed. Professional agency website designs are the cornerstone of the digital marketing strategy for many successful businesses.
Our experts know how to reach the right audience at the right time and send them to the right landing page. That's how our custom website designs can help your overall digital marketing strategy, whether you are focusing on social media marketing or search engine advertising:
Great User Experience – we ensure that the websites we build are easy to navigate, that the content is readable and that every element has a purpose. By adopting responsive web design, we will make your website look great on every device. That is crucial for improving the performance of your ad campaigns.
Consistent Branding – we will communicate with your team to develop a tailor-made website for your brand. Our web design company pays great attention to detail because we understand the importance of consistency in branding.
SEO boost – clean website architecture is vital if you want to rank better than your competitors in search engines. We can help you get an SEO-friendly design that will bring more people to your website.
Conversion Rates Optimization – our web design team carefully tests how each element on your pages impacts visitors' decisions. That helps us build websites that have conversion rates above industry standards.
Integrated analytics – successful campaigns require analytic tools that help you measure everything related to your website traffic. We will integrate the necessary tools to help you collect important data for crafting a successful digital marketing strategy.
Pricing for custom web design services
"If you think good design is expensive, you should look at the cost of bad design." (Ralf Speth)
Have you wondered how much web design agencies would charge you for custom web design services because you can not find simple price catalogs on web agency websites? Well, there is no easy answer to that, as the cost would depend on many factors, such as:
Website complexity
The platform that would best suit your needs
Amount of content
Additional website features
For example, small business website options usually range from $5,000 to $7,500, while large companies usually invest around $25,000 to $100,000 in web development services. However, some businesses are ready to pay up to $250,000 for unique websites. Still, every business is unique, you can try using our web design calculator. to get a better idea of the potential price range web design companies would charge you for your project.
Our design agency puts a lot of effort into creating the best possible offers for you by carefully analyzing your needs. Transparency is vital in every digital product design partnership, so you will receive detailed reports of our progress during the design & development phase.
Do not hesitate to schedule a free call or meet us at one of our location, and our experts will outline the right digital strategy for your new business website.
How can hiring web design agencies benefit your business?
The internet has come a long way since the first website went live; many platforms now offer pre-built templates, making it easier for anyone to build their online home. Unfortunately, such convenience has its price – less time in the making means more time for your website to load, and it's well known that slow and sluggish doesn't win the UX race. Hand-coded websites created by established web design firms remain the most high-quality options if you want to make profits and stay at the top of the game. Professional agency website designs are not only unique and aesthetically pleasing but also offer better security and complete control of your website. By hiring custom web design development services, you're also saving significant maintenance costs in the long run. Let's take a look at the additional benefits of working with experienced web design firms:
Professional web design agencies usually have years of experience in the industry and many successful projects behind them. You can easily check their web agency websites and get a detailed look at portfolios and past clients. That will give you the necessary confidence because you will know that you are in safe hands.
Do you want a beautiful website that functions perfectly and drives conversions while also beating competitors in Google ranking? Web design agencies hire professionals with different backgrounds to ensure the top-class quality of your new website design and digital marketing performance.
web design companies usually have large budgets that allow them to invest in advanced tools. Even if you can buy such tools on your own, it takes years of knowledge accumulation to use them properly. If you hire the right web design company, it will help you build features you could never get from templated websites.
if you were to face any problem related to your website, you could quickly contact the web design company you hired, and they will usually provide the necessary support immediately. Most web design sites provide a live chat option, which comes in handy in emergencies.
web design companies can help you finish the project faster. That's especially important if your team has a deadline to meet. They can also bring new creative ideas to the table.
What areas our web design team serves?
We'd be happy to get in touch with you and discuss ideas for your business website. Our web design firm serves the entire metro Toledo area and beyond, including:
Maumee, Ohio
Perrysburg, Ohio
Rossford, Ohio
Sylvania, Ohio
Oregon, Ohio
Northwood, Ohio
Walbridge, Ohio
Lambertville, Michigan
Temperance, Michigan
Monroe, Michigan
Whitehouse, Ohio
Waterville, Ohio
Holland, Ohio
Bowling Green, Ohio
If you are not located near the Toledo area, we would love to schedule a Zoom call with you. We look forward to learning more about your amazing business.
Keys to Ultimate Web Design
"Design is thinking made visual." (Saul Bass)
Our experience has taught us that in order to provide the ultimate web design that puts our clients ahead of the competition, we must deliver on these promises:
You have one chance to make a first impression. As soon as your future customers land on your web pages, they assess your company's credibility and product quality. Grow With Meerkat will ensure your web design captures your website visitors' attention and encourages them to explore your site.
If your users can't navigate your website with ease, they will be quick to revert to your competitors. Don't allow yourself to lose customers due to a poor website structure. Our web development agency Toledo creates intuitive and easy-to-navigate websites allowing your users to find everything they are looking for with a click of a button.
Your website has to be more than a pretty-looking facade. The ultimate web design includes compelling content with clear CTA. Our web design experts will ensure that your content is created and optimized with your business goals in mind.
We will communicate with your team to determine your website's CTA. Whether it's to submit a lead form, schedule a call, purchase a product, or subscribe to a service, we will tailor an entire web design process around that goal to ensure every aspect closely aligns with your business philosophy.
Get in Touch With One of The Most Talented Web Development Companies in Toledo
Fill out this form, and let's discuss your next steps.
Have A Project To Complete?